Girls basketball captures championship at Lutheran St. Charles Tournament
This past Friday (12/3), the St. Charles West girl's basketball team beat the Lutheran St. Charles Cougars 73-64 for a first place trophy in the Lutheran St. Charles Tournament.  The girls managed to play three tough opponents, which ended up being Visitation Academy, Lutheran North, and Lutheran St. Charles, all of which are private schools in the St. Louis area.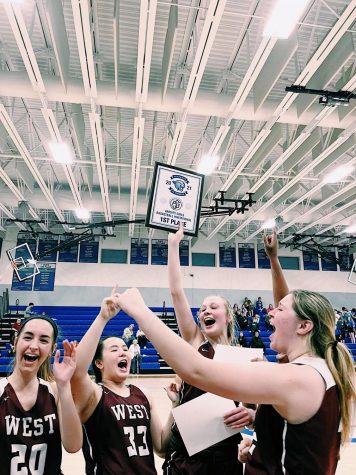 The girls started off with a tremendous win over Visitation Academy with a score of 49-40.  This win set the stage for the Warriors and qualified the ladies into the winner's section of the bracket.  Wednesday night (12/1), the Warriors clinched a win against Lutheran North with a score of 49-43 with 24 points coming from senior guard Mia Nicastro.  Friday night (12/3), the Warriors won again with a score of 73-64 against Lutheran St. Charles and were named the champions of the tournament.  Seniors Harmony Hudson, Mia Nicastro, and Lily Jackson received All-Tournament Team Members, and senior Lily Jackson received MVP of the tournament.
As for the rest of the season, the warriors have not started the season better since 1999, and a bright future is ahead for the ladies' basketball team.
Leave a Comment