Winter Guard: A day in the life
My first hand experience on how the winter guard operates, their history, and their preparations for the upcoming season.
As a writer, one of the articles I've wanted to write for a while is an article about the winter guard's success.  However, this week (12/6), I had the opportunity to sit in on a practice, and honestly this was one of the best experiences I've had in a while.   The St. Charles West Winter Guard is a seasonal activity where you are taught to learn how to spin items such as flags and banners and perform a show throughout the season.  However, it is so much more than spinning flags: this team is all about comradery and teamwork, and their close chemistry was conveyed throughout the whole practice.  The winter guard also has substantial victories under their belt, such as last season with a 4th place placement in the Missouri Guard Championships. When asked about their growth during the season, the team had positive feedback to give me (which also calmed me down, I was really nervous).
"I have grown to be a leader and learning new skills almost every practice", says senior captain Paige Ryherd.  Paige has been nominated as captain for the second year in a row this 2021-2022 season.  Watching her at practice, Paige is an excellent leader, and she is so open to helping everyone out.  It was so inspiring to me because she was such a positive role model.
"I started doing winter guard my freshman year, and I have improved SO MUCH", says junior Laraya Duncan, "I remember struggling with the very basics, and now I am throwing sixes on sabre and learning new bigger tosses".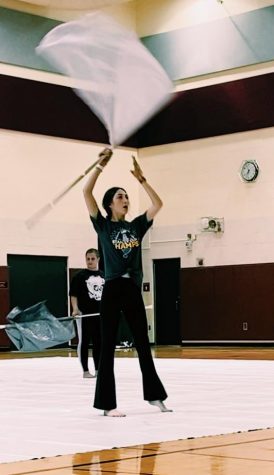 As for me, I was super nervous beforehand.  This was a totally new ballpark for me, I had never done something like this before.  But honestly? This was one of the most fun things I've been able to watch in a while.  When I first walked in, the coaches were super welcoming and it immediately calmed my nerves.  I watched the girls perform these awesome tricks while I set up, and these gave off the illusion of professional grade tricks. And this was only their WARMUP.  If you had told me this was a college guard (keep in mind, I'm not super knowledgeable in the color guard world), I would've totally believed you.  The team was also super positive towards one another, and gave off a warm sense of comradery between them, but they weren't afraid to critique each other and give feedback.  One of the highlights of my day was watching captains Jessie Strain, Hannah Kean, and Paige Ryherd teach the people who were newer to the concepts.  The captains had this sense of friendship between them, and watching them be a positive role model to younger guard members was super inspiring to see.  They were also super inclusive to the whole guard and open to new ideas.  I had so much fun watching them work together and help each other out.  Another impressive feat that the Winter Guard gave off was their ability to learn quickly and perfect their different maneuvers.  Some of these ladies have only been participating for a month with little to no experience, and I would have never known if someone didn't mention it.
Overall, I rate this experience a 100/10 and I highly recommend joining if you are interested.  However, it takes commitment to learn the performance and different tricks, but it is so worth it.  You are on a team with a phenomenal coaching staff, an inclusive group of girls, and the experience of a lifetime.
If you are interested in joining Winter Guard in the future, I highly recommend emailing [email protected] , it is something you won't regret.
Leave a Comment
Donate to SCW Smoke Signal
Your donation will support the student journalists of St. Charles West High School. Your contribution will allow us to purchase equipment and cover our annual website hosting costs. Thank you for your donation!