St. Charles West swim team recap
The swim team's success story this 2021-2022 season
Eat, sleep, swim.
For the St. Charles West swim team, this statement could not be more true.  Each day after school, the swim team gets together at the St. Charles County YMCA and practice for only 45 minutes while attending around two meets each week.  This is a small window of time, especially considering other winter sports get about two hours of practice time each week.
"The lack of practice was different", says senior Samantha Morgan, "We used to get an hour but then we got cut down to only 45 minutes a day, it sucked but we still managed.  We constantly give our all and I am proud of this team, especially the new girls that didn't get a lot of practice that we used to get.  This team is going somewhere, and I can't wait to see where".
However, the limited practice time did not falter this swim team.  Over the course of the season, the Warriors have competed and beaten swim teams such as rivals St. Charles High Pirates, Hazelwood West, and, just yesterday, Ritenour. The girls have competed against top tier teams such as St. Dominic, Holt (Wentzville), and placed 8th overall at the Fort Zumwalt North invitational.
However, some challenges were prevalent, but eventually overcame.
"One of the challenges that came with swim was trying to keep a good mindset in the water", says junior Laken Arender, "At first I would panic, and that slowed me down.  You have to trust in yourself to make it all the way".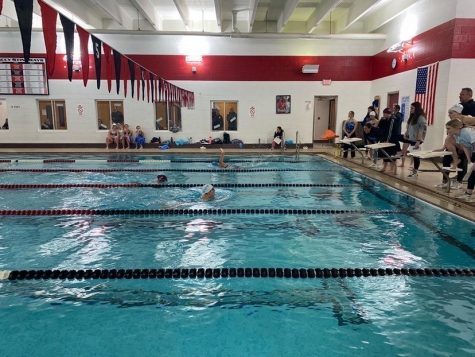 A number of accomplishments have also been made this year.  Junior Lorelei Crowley made a state qualifying time for her 500 free; Paige Whiteside, Mya Buehrle, Izabela Brasher, and Stella Garrison had a consistent and killer 200 medley relay race; Samantha Morgan managed an astonishing comeback against Ritenour during the 400 medley relay (Sam was the third person in the relay, and the third person for Ritenour was already halfway across the pool, but they won!); and various members of the swim team have been highlighted with the "Warrior of the Week" award.  This award is given to hard working, dedicated, and passionate swimmers within the program, a huge honor to bestow.  Looking back on the season, the girls had very positive things to say.
"My biggest accomplishment was trying my absolute best, and encouraging everyone to do the same", says junior Anna Klingler.
"I think my biggest accomplishment is getting my state time again.  That felt very good, and how proud I am of this team and them all coming so far, from not swimming to this year", says junior Lorelei Crowley.
In addition to each girl's own set of accomplishments, a strong leadership team comes into play.  Seniors Jacqueline Gurley (fourth year swimmer) and Paige Whiteside (third year swimmer) were nominated as captains this year, and both girls demonstrated strong leadership qualities while reaching their own accomplishments.  Other seniors Alyssa Helbing, Samantha Morgan, and Taylor Everley (manager) also made phenomenal contributions to the team.
"Whether it's trying a new event, shaving off seconds, or metaling: all are accomplishments", said captain Jacqueline Gurley, "For our new swimmers, they have improved their technique dramatically since the beginning of the season".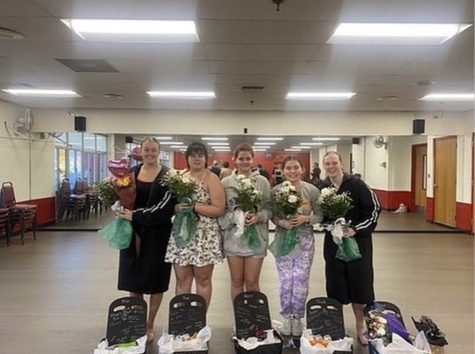 However, their season is not over just yet.  On Monday, the Warriors compete in the GAC championships for a championship title.
"I'm very excited and ready for it (GACs).  It is definitely going to be a long day but I believe everyone is going to do great and it's going to be a lot of fun!", says freshman Mya Buehrle.
If you are available, it is highly encouraged to go watch the swim team GACs for the chance of a GAC North championship title.  Best of luck to our lady Warriors!
Leave a Comment
Donate to SCW Smoke Signal
Your donation will support the student journalists of St. Charles West High School. Your contribution will allow us to purchase equipment and cover our annual website hosting costs. Thank you for your donation!