Dance and Drill's season recap
The road to state with the tight knit St. Charles West dance team
For St. Charles West, sports can be tricky to initiate with the student population decreasing over the years.  For example, in the 1978-79 school year, 1009 students were enrolled at St. Charles West (only three grades had been implemented during this time).  Fast forward to present day, there are between 650-700 students enrolled at St. Charles West a little over 40 years later.  However, these numbers have not shaken the St. Charles West dance team, and the team's hard work and perseverance has consistently shown throughout the years.
Currently, less than 1% of the school's population is on the dance team, with an astonishing six members this 2021-2022 school year: freshmen Annabelle Prost and Kleyton Crate, sophomore Kate Matthews, junior Ella Smith, and seniors Natalie Friis and Joy Cowan.  However, their numbers do not define them.  Within the last two years, the team has placed 2nd overall and 3rd overall at the MSHSAA state competition, and will compete for a state title this Saturday, February 26th.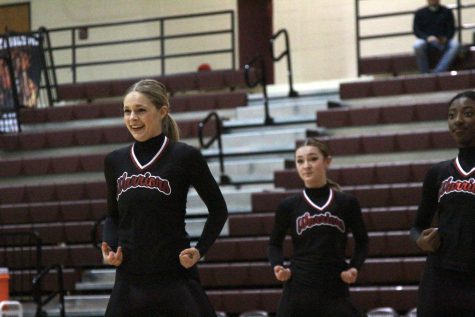 The team has put in a lot of work this season when preparing for certain competitions.  This school year, the girls were dubbed "Regional Champions" at a competition at Fort Zumwalt North on January 9th hosted by Dance Team Union.  In addition, the girls placed second in lyrical and prop at a competition hosted at Lindbergh High School on December 5th, 2021.  The team also participated in the annual NDA camp held in St. Louis, earning a number of ribbons and awards at the camp.  The team has also participated in a number of halftime shows during basketball games and performed dances during assemblies.  More recently, the team has been focusing on state prep and state routines, and the team is ready for an in-person state competition.
"Specifically, we've been working on our turn section of our lyrical routine.  They are very difficult and we've had to change and work on those a lot so we have the best possibility to win for our school", says freshman Kleyton Crate.
"I am very excited to experience state in person! Last year was virtual, so I'm not sure what to expect this year", says sophomore Kate Matthews.
The team has also been through challenges when it comes to practice location, and have faced troubles on where to practice and when.  However, the team stayed determined and resilient and made it work.
"I'm excited for state this year, it will be my third state overall but my second in-person state ever! So far we've had a bit of a winning streak with placing 5th overall the year before my freshman year, 2nd overall my freshman year, and 3rd overall my sophomore year, so I'm hoping we can maybe check 1st off too! This year was very different than previous years since we now have a new coach and we don't get a ton of gym time while we used to get more. While we're so thankful to be able to practice in the hall, its a lot harder to tricks and lifts full out, not to mention bruises from dancing on concrete.  But we are such a resilient team team and we are determined to place this year and continue our streak!", says junior Ella Smith.
With the amazing talent of all the ladies, their placements in competitions this season, and their ability to work together, the dance team is projected for a successful competition this Saturday.  The team will show off their routines on Friday during AIP for their state send off.  Best of luck ladies!
Leave a Comment
Donate to SCW Smoke Signal
Your donation will support the student journalists of St. Charles West High School. Your contribution will allow us to purchase equipment and cover our annual website hosting costs. Thank you for your donation!