Ian Hollander places 12th at golf state tournament
This week, the Missouri State High School Athletics Association (MSHSAA) held their annual state golf tournament on Monday, May 16th and Tuesday, May 17th.  At St. Charles West, the varsity golf team had three state qualifiers for the state tournament this year: including freshman Owen Shy, sophomore John Howle, and junior star Ian Hollander.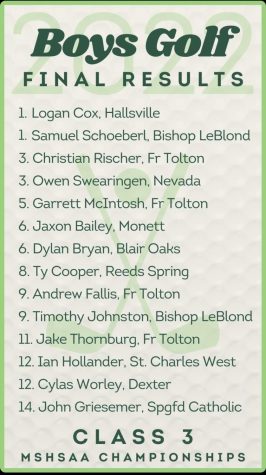 Previously, Hollander competed in the state tournament his sophomore year, receiving the honor of All-State finisher in class 3.  Additionally, Hollander has won a medal in every varsity tournament he has participated in during his high school career, was dubbed part of the golf All-State team in 2021, and is a notable name in the St. Louis area and within the GAC North conference.  His junior season, Hollander was the White Division Champion at the Bogey Hills invitational, he was a first place finisher in the Troy Scramble Gold Division, finished 7th at Crown Pointe, and a 2nd place finish at the St. Albans Tournament.
At the state tournament this week, Hollander managed to place 12th overall in the state, and received All-State team honors for the second consecutive year.
"It felt good placing at state because that was what I had been looking up to for the whole season," says Ian Hollander, "Placing at state was way harder this year.  I shot 5-10 strokes better this year than last year (in 2021, Ian placed 10th in the state competition) so I am happy with how I played with shooting 74 the first day and 77 the next".
Coming out of the tournament, Hollander took away some key points to make a priority for his senior season.
"Senior year I am trying to just become the best golfer I possibly can," says Hollander, "I need to improve on many things in my game.  I'd like to get back my GAC player of the year title again (which he received during the 2021 season, but not 2022) and do better at districts to give me confidence before state next year".
Additionally, Owen Shy was in a three way tie for 42nd place, while John Howle placed in 84th place overall.  All three golfers have worked incredibly hard to get to the state tournament: a feat not easily conquered.  Congrats to all golfers who participated in the state tournament this week!
Leave a Comment
Donate to SCW Smoke Signal
Your donation will support the student journalists of St. Charles West High School. Your contribution will allow us to purchase equipment and cover our annual website hosting costs. Thank you for your donation!