The St. Charles West boys and girls' cross country teams win 2nd and 7th place state trophies.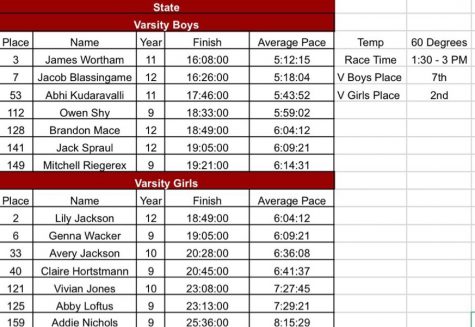 This past Saturday, the St. Charles West boys and girls' cross country teams managed to take 7th and 2nd in the MSHSAA state championships in Columbia, Missouri.   Both teams have not been able to qualify since 2006, so this is seen as a glorious win for both of the cross country teams.  Both teams have been preparing since the beginning of the season for their postseason run, which has included practices after school every day, pasta dinners before races, and summer training.
Looking back on the cross country season, the girl's team managed to become GAC North champions, placed 2nd in districts, and the five state runners managed to place in the top 70 out of 110 runners with two top 10 finishers: Lily Jackson and Genna Wacker.  The boy's team was also GAC North champions, placed 4th in districts, and their five state runners placed in the top 80 out of 111 runners, with two top 10 finishers: James Wortham and Jacob Blassingame. Following the season, the teams have been very satisfied with their state placement and managed to sit down and have a conversation about the challenges but victories that come with a state placement.
"I think the hardest part of the race is the places with less crowds, because you won't be put back into the race mindset if no one can cheer you on", says freshman runner Claire Horstmann, "However, when Addie (the seventh runner) crossed the finish line, we were all really excited and jumping up and down about our placement".
The cross country team is already planning to run in the track season together, and they are hoping for another state placement, hopefully a championship, in the near future.  Thank you to the seniors for their hard work and dedication to the cross country program, St. Charles West is proud of you!