Teacher Feature: Ms. Ballmann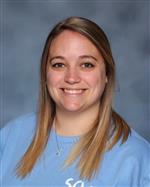 On this week's Teacher Feature, we are celebrating Ms. Ballmann: the child development, food fundamentals, career pathways to the teaching profession, human relations, and housing and interior design teacher at St. Charles West. Ms. Ballmann spent her childhood on the north side of O'Fallon Missouri, and attended Lewis and Clark Community College before transferring and graduating from Fontbonne University with a degree in family and consumer sciences.  Originally, Ms. Ballmann wanted to teach kindergarten, but realized very quick that teaching little children was not for her.  Therefore, she decided to become a high school teacher so she could help make a positive impact in teenage lives, and help make children feel safe and respected in a school environment. Some of the activities she does in her free time include spending time with her fiancé, her family, and her friends. Inside of school, she enjoys spending time with her work buddies, her AIP, and helping students.
"I mostly love the relationships I have built with my coworkers and students", says Ms. Ballmann, "I also love the feeling of a small community, my high school was not huge and both my colleges were relatively small, so SCW feels like home".
Some fun facts about Ms. Ballmann include:
She is getting married in May!
She has a twin sister, and they are best friends.
She played college volleyball for four years.
If you are interested in nominating a teacher for Teacher Feature, please email Mackenzie McGuire at [email protected].