St Charles West Girls Basketball places second in the St. Dominic Tournament
At St. Charles West, one of the most iconic sports that deserves a little bit more recognition this school year has got to be the girls basketball team.  Before going into the tournament, the girls had an undefeated record of 8-0, 4th place in state for small schools, and continue to have hardworking athletes to carry the program into success.  This past tournament, the Lady Warriors managed to beat teams St. Dominic with a score of 61-29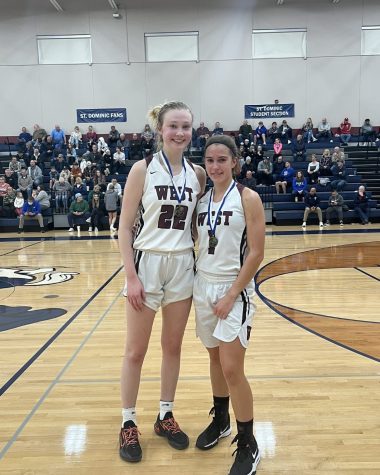 , and managed to slide past Francis Howell Central with a score of 64-55 with the leading scorer being Mia Nicastro with 26 points.
However, former Auburn football coach Gus Malzahn has stated words that ring in every sporting event: It is very hard to beat the same team a second time.  This was definitely the case with the championship game being against Lutheran High School in St. Charles.  The Warriors put up a fight but ultimately lost to Lutheran with a score of 59-42.  This puts the girl's record at 10-1, a very impressive record and one of the best records the program has seen up till now.  This does not falter the small school ranking as the girl's team is still 4th for state, and the girls will continue to be as hardworking as ever in the upcoming games.
Members of the All-Tournament team were Mia Nicastro and Lily Jackson, and the Lady Warriors will face Duchesne today at Duchesne at 6:30, there has been no theme determined for the game as of right now.