The Freshman Soccer Trio
Sports can bring some of the best friendships high school can offer, but what if you were already best friends with your teammates beforehand?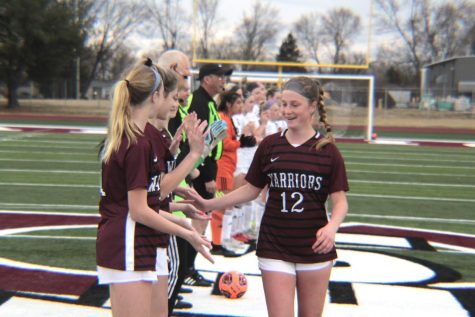 This was the case for freshmen soccer players Riley McGuire, Genna Wacker, and Anna White.  Riley, Genna, and Anna all made the 2022 varsity girl's soccer team this school year. The girls are also usual starters for the team, with Riley McGuire typically at striker, with Anna White at midfield, and Genna Wacker as one of the team's essential defenders (However, Genna will play anywhere).  This allows each girl to cooperate with one another, the team, but also allows for individual successes.
"I think it (midfield) makes me better because it's a new position than what I usually play so for me that's out of my comfort zone and pushes me to get better and develop," says freshman Anna White.
In the past, all the girls have a history in select soccer, and two of them have a history in high school sports.  Riley played volleyball during the 2021 season, and Genna is known for her cross country running and her participation during the state cross country meet.  These experiences have given them insight on the competitive nature of high school sports seasons, making them better soccer players in the long run.
"Cross country helped me to have better endurance so I am able to stay on the soccer field longer without getting as tired," says freshman Genna Wacker.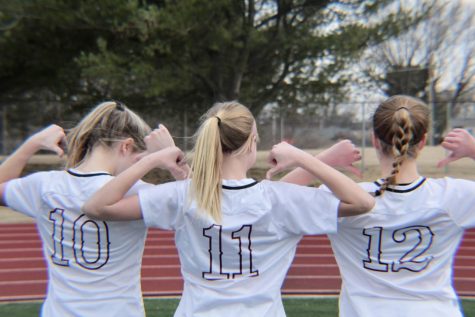 These experiences led the girls to each other.  The girls met at the St. Charles West soccer camp and have continued to grow closer throughout the school year.  The girls have various sleepovers, celebrate each other's birthdays, and participate in "Galentine's Day".  On the field, the girls have a close chemistry and work extremely well together. Each girl has set herself up for a successful freshman season and a firm foundation in the program for years to come.
"On the field, we grow together by knowing each other's playing styles and tendencies while playing, and off the field we build a greater bond by helping one another and just being there for one another," says Riley McGuire.
"I think our friendship outside the field is so good that it carries onto the field and helps each other out. We can learn how to play each other on the field and such," says Anna White.
"I think our friendship on and outside the field is strong and on the field it gets stronger by bonding with each other and celebrating together," says Genna Wacker.
While being on a team can bring great friendships, some of the best friendships blossom when teammates are able to bond off of the court/field. Make sure to catch Anna, Genna, and Riley on Thursday, April 14th, for the next girl's soccer game.
Leave a Comment
Donate to SCW Smoke Signal
Your donation will support the student journalists of St. Charles West High School. Your contribution will allow us to purchase equipment and cover our annual website hosting costs. Thank you for your donation!