SCW basketball legend comes back to coach girl's team
A welcome back to a St. Charles West legend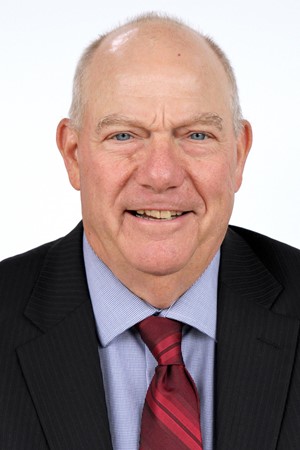 At St. Charles West, the 1995 boy's basketball state team is heard of by every student.  A banner of the team and their accomplishments hang proudly on the gym wall, the current basketball court is a nod to the team, and former NBA player Ryan Robertson managed to help contribute to the state win in 1995.  Another notable nod to the state winning team is the coach, Terry Hollander.
Terry Hollander coached the St. Charles West men's basketball team from 1980-2010, winning them one state title, four Final Four appearances, 12 district championships, and 549 wins in total.  Before St. Charles West, Hollander became an assistant coach for Duchesne.  After his time at West, he coached at Lindenwood University in St. Charles for six years before becoming O'Fallon Christian's (Christian High School) head coach in 2016, leaving in 2019.  He then went back to Lindenwood University as their assistant coach in 2019, where he coached until the 2021-2022 season.  Hollander will be going into his 50th year of coaching during the 2022-2023 school year, coaching high school basketball for 41 years, and college for nine.
Some of his professional accomplishments include a state ring, capturing the 500th win at St. Charles West against his alma mater, coaching a Division II basketball program, becoming a Missouri Hall of Fame basketball coach in 2008, was selected in 1995 as the MBCA as the 4A Coach of the Year, GAC North Hall of Famer in 2015, and a name everyone from St. Charles West adores.
"I have been blessed to have been a part of some great moments in SCWest history and it is my desire that some of those moments are again waiting in the coming years," says Terry Hollander.
For the 2022-2023 school year, Terry Hollander announced that he would return to St. Charles West to coach the 3x GAC North champion girl's basketball team.  The girl's team was formally coached by Angela Pointdexter (a cross country legend for her 1998 state coaching win for girl's cross country), ending their 2021-2022 season with a 2nd place district placement overall.  With Hollander coming in, he's ready to take action on the girl's past progress.
"I want to have the girls in our program enjoy the experience of playing high school basketball to the fullest," says Coach Terry Hollander, "I hope my experience can help our girls achieve their goals and become the best players they can be".
With a proud history and a bright future ahead, St. Charles West, the GAC conference, and the district will all benefit with Hollander coaching again.
"There is nothing more exciting than representing West, in front of great fans, in the best basketball gym in the state," says Hollander.
Leave a Comment
Donate to SCW Smoke Signal
Your donation will support the student journalists of St. Charles West High School. Your contribution will allow us to purchase equipment and cover our annual website hosting costs. Thank you for your donation!