SCW 2022 Germany Trip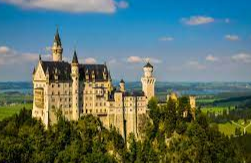 Over the summer of 2022 SCW and SCH German students took a 2 week trip to Austria, Germany, Switzerland, and The Czech Republic. Some of the sights we saw were The Schönbrunn Palace in Vienna, Austria Neuschwanstein Castle – the Dream Palace of a Mad King in Switzerland.  
 One of my favorite places we visited was in The Czech Republic we walked across the Medieval Charles Bridge
It is a 665 year old bridge in Prague, Czech Republic where there are 30 statues. The most popular place our group went to was the catacombs in Austria that was built under the most important religious building in Vienna, "St. Stephen's Cathedral".
If you are interested click here for meeting information https://bit.ly/3D8wvGo
And it just so happens that the German class is going to Eastern Germany in the summer of 2023.
Julia Kean went last summer and said "It was super fun getting to bond with my German family and experiencing the culture really opened my eyes to the real world."