Mystery plant discovered on SCW campus
On Thursday, September 22nd, St. Charles West 9th and 10th grade principal Mr. Jack Williamson left an interesting message on his Twitter page: @JWilliamsonSCW.  In the message, he posted two pictures of a mysterious plant growing on St. Charles West High School's campus.   The tweet states, "Hey Warriors, can you help identify the volunteer plant growing in our landscape?  Guesses include squash, pumpkin, and watermelon!".  Within the comment section of the tweet, various teachers and staff including Mrs. Weil, Dr. Voelkl and Mrs. Ballmann commenting their opinions on the mystery plant.
"That is zucchini," says FACS teacher Mrs. Ballmann.
"Winter squash?" commented St. Charles West building principal Dr. Voelkl.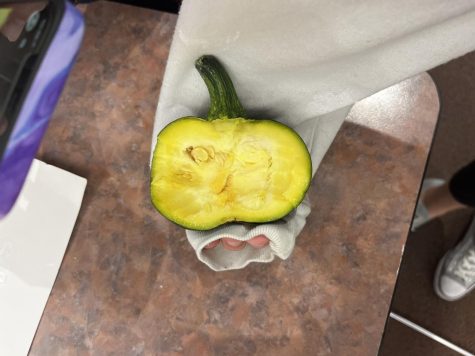 Additionally, on Friday, September 23rd, St. Charles West journalism and newspaper students began to investigate the puzzling plant on campus.  The students walked around the outside of the building and found the plant, and sampled one of the mysteries growing outside of campus.  The journalism students began to cut the plant open and sample the plant, while the newspaper students went around the school asking for student and staff opinions on the mystery plant.  Staff were given a chance to touch, smell, and look at the plant and give their theory as to what the plant could be.
"(it smells like) Cantaloupe, a little bit," says biology teacher Mrs. Bourgeade.
"I don't know," commented history teacher Mrs. Myers, "Pumpkin?"
"It smells pumpkin-ey," says business teacher Mrs. McLaughlin.
Additionally, students got to give their theory as to what the plant is.
"I thought it might be squash, but I think it might be pumpkin," says senior Andy Ulett.
"I think it's a squash," says senior Ian Hollander.
So now it's your turn: after reviewing the evidence and the opinions of other people, what do you think the mystery plant at St. Charles West could be?  If you're looking for more info, check our Instagram and Twitter! (@scw_today)
Leave a Comment
Donate to SCW Smoke Signal
Your donation will support the student journalists of St. Charles West High School. Your contribution will allow us to purchase equipment and cover our annual website hosting costs. Thank you for your donation!