A Dance Battle…At SCW??
A dance battle? At St. Charles West? The only place for that action is the spring assembly!
The STUCO Spring Special included a commercial break showcasing the dance team and teachers voted on by students. Melaina Beilsmith and Gabi Matthews guided Ms. Howard. Annabelle Prost and Kleyton Crate instructed Mrs. Ballmann. Kate Matthews and Mrs. Bourgeade took the floor together and Ella Smith gladly took Mr. Jameson under her wing.
In the end Mr. Jameson flew the nest, and dragged Ella Smith alongside him as they took the trophy home, "The trophy is displayed in my room with other items I display in the front of my classroom." 
When asked if they should have won, Ballmann says, "I mean.. DUH! Because our choreography started from the second 8 count and lasted the whole time. Also, did you see my turn?" Despite her disappointment, she applauds Jameson for his win. 
"I wanted to do something different. Everybody else was doing some kind of line dancing, or hip hop, or jazz, etc. But I wanted to go back to the classics," explains Ella Smith as she reminisces on her ballet. 
Mrs. Bourgeade and Kate Matthews surprised the crowd by bringing along Anna Klingler and . "We all gave our input but Kate is the professional. We made sure she thought it was good first," Bourgeade describes how they learned the dance. 
Would they do it again? "Absolutely, next time with a costume," Howard assures.
The commercial break was not one to miss! Congratulations to all of the dancers involved!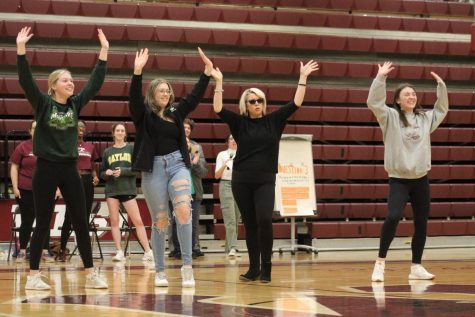 Photo credits: Audrey Branson