The Reptile Room Book Review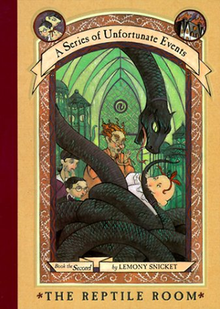 This is the second book in the 13 book series called A Series of Unfortunate Events in this book the Baudelaire children are put in the care of a distant relative who is a Herpetologist which is the study of amphibians his name is Montgomery Montgomery the children immediately love him and he plans to take the kids to Peru with him to study snakes Montgomery. Montgomery has named a new breed of snake he has found calling it the incredibly dangerous viper but in reality it is the nicest snake known and he only named it that to play a trick on the fellow herpetologist since they make fun of his name.
A man named Stephano a successor to Montgomery's original assistant, who mysteriously disappeared, comes before they leave the kids immediately recognized him as Count Olaf and try to warn Uncle Monty, he doesn't believe that he is Count Olaf but a spy trying to steal his research and tears his ticket to Peru the next morning the children find Monty's dead body. Stephano tries to convince them that it was the incredibly dangerous viper that had bitten him and killed him Mr.Poe comes back and the kids convince the police and Poe that it wasn't the snake that killed him and reveal Count Olaf who escapes them and Poe is to find another home for the children.