SCW Sports During the Pandemic- Update
SCW students were disappointed to learn that only family members could attend sporting events.  Most students' initial thoughts went straight to Friday night football games.  The school's guidelines resulted in no student section- an idea both spectators and players were unhappy with.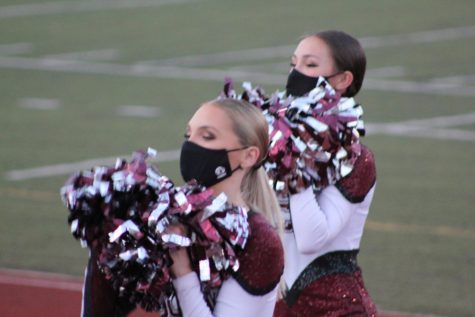 Tuesday, September 29th, SCW announced that they will now allow 40 students to buy tickets to football games.  This will be based on seniority and on a first come, first serve basis.
Senior, Olivia Malinee, reacted to the announcement saying,  "At first we were really upset when we found out there wasn't going to be a student section at any home football games."  After the announcement, and as a member of the Tribeline, she "got excited that my team would be able to perform for our classmates again."  (Above, Malinee is pictured dancing on the sidelines)
SCW has put extra precautions into place to accommodate students at games.  Social distancing guidelines will still apply and students will also have to bring their own lawn chairs instead of sitting in the bleachers.  Despite these changes, students are still looking forward to supporting their teams.