The Weekend Review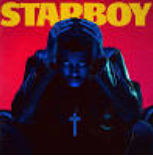 The Weekend  Review
Last week I got the opportunity to host a radio show for all the SCW lunches, where I got to share some of my favorite music with other students. During this time many of my peers came up to my stand to ask me the song I was playing, and what artist. A variety of music was played on my show, but the most buzz came from none other than The Weeknd. Today I will be rating my favorite albums and songs from The Weeknd that I think are worth listening to.
At number one, Trilogy. Trilogy is made up of three albums- House of Balloons, Echoes of Silence, and Thursday; rebranded into the beautiful melody Trilogy. Some of my favorite tracks on Trilogy are Montreal, Gone, Wicked Games, and High for this. 
At number two, Beauty Behind The Madness. This album holds its place so high on the list because of one song and one song only- The Hills. Some of my other favorites on the album are Often, Acquainted, and Tell your friends. 
At number three, STARBOY. Starboy was The Weeknd's third studio album released in 2016, and holds its place on the podium based on the catchiness of the album. Some of my favorite songs on the album are Stargirl Interlude, Secrets, Six Feet Under, and Reminder. 
At number four, After Hours. After Hours is the perfect mix of upbeat and chill, perfect for listening during all moods. Some of my favorites on this album include Until I Bleed Out, Heartless, and Escape from LA. 
At number five- My Dear Melancholy, number six- Dawn FM, and last place, sorry not sorry- Kiss Land.  The Weekend to me is the perfect mix of R&B and pop. He collabs with many artists, and produces new music and sounds that keep his listeners guessing. I hope you will check out some of the songs I listed, and find some of your favorites along the way.
Leave a Comment
Donate to SCW Smoke Signal
Your donation will support the student journalists of St. Charles West High School. Your contribution will allow us to purchase equipment and cover our annual website hosting costs. Thank you for your donation!