Dorm Room Must-Haves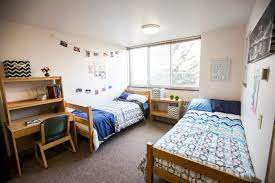 Hey seniors! With college right around the corner we have a lot to be thinking about. One important thing that's been on my mind is what to bring to my dorm room. Today I will be sharing with you my ultimate list of what you need to be prepared for college life. 
Umbrella

Waterproof Speaker

Brita Water Filter 

You DO NOT want to have to get up in the middle of the night to get water, and you also don't want to drink nasty dorm water, so get a water filter 

Shower Caddy

Shower Shoes

Nightstand with drawers

Plastic storage bins for clothes and other storage

A rolling laundry bin

You are not about to carry a big basket of clothes to the washer. That is just too much work.

Mini steamer 

Your clothes will get wrinkled and you don't want to bring a bulky iron. 

Extension cord with outlets!!!

Mattress topper 

If you think college beds are comfy.. I have some news for you. 

Lamp- bonus points if it has an outlet on it. 

Special Hangers to save space

Mirror you can hang on the back of your door

Rug 

Dont get white, and don't get one that's too fluffy 

Mini fan with a clip 

You can hang it on your bed that  way

Mini handheld Vacuum

Mirror with lights 

Disinfectant wipes 

Portable charger 

Shelf organizers 

Mini fridge 

Lots of plastic bags

These can be great for holding trash or other things in the room

Two-Three sets of sheets 

Tissues 

Paper Towels 

Plastic Utensils

Hooks 

Mount then on your wall so you have more space to hang jackets and things

Shoe rack 

THE GOOD SNACKS
Leave a Comment
Donate to SCW Smoke Signal
Your donation will support the student journalists of St. Charles West High School. Your contribution will allow us to purchase equipment and cover our annual website hosting costs. Thank you for your donation!